Care instructions for showers
To maintain the water saving and rinsing properties, make sure the water- and air ducts are fully open!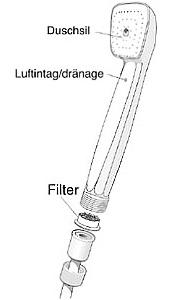 Cleaning instructions
Our showers are provided with a filter between the hose and the shower head that makes it impossible for filth to gather inside the shower head. Every now and then, disassemble the shower head and rinse the filter. This is especially important in lime-rich areas.
ELLESS® shower strainers are lime repellent and therefore very easy to clean.
Is the shower clogged? Loosen the star squad and put the strainer in vinegar for a couple of minutes up to an hour. Then reassemble and gently brush the strainer while letting the water flow. Also make sure that the air inlet is open.
News
ELLESS - Best at water saving - in reality
Consumers are often misled to think that they need to replace the entire mixer in order to...
ELLESS recommended by the SSNC
ELLESS products are recommended by the Swedish Society for Nature Conservation (SSNC) with...
Contact us directly
Do you have questions or want to order? Call us at +46 (0)35 - 21 22 60 or send a message.